The High-Flow Experiment
It's one hell of an exciting email to receive a week before launching on the Grand Canyon.
"You are being contacted because you are a permit holder for a river trip in Grand Canyon National Park. During the time you will be on the river, the Department of the Interior, through the Bureau of Reclamation, may be conducting a high flow experiment (HFE). The HFE would be implemented between November 5 – 8, 2018, with a maximum flow of roughly 38,150 cubic feet per second (cfs) and a likely duration (including up ramp and down ramp) of 4 days. If an HFE is approved through Assistant Secretary for Water and Science Tim Petty, the flow would resemble previous HFE's, except the peak flow of 38,150 cfs would only be sustained for 60 hours (versus the previous HFE's of 96 hours). Flows from the dam would begin to rise the morning of November 5th and reduce back to base flow by 3pm on November 8, 2018."
Immediately, the bypass tubes on my inbox open up, and emails from the group pour in.
"This would be fun!"
"Bedrock might be covered!"
"Well shit that sounds scary."
"That sounds crazy!"
"Fingers crossed!"
"Hoo boy! Yee haw! Yowza! "
And then the moment when the tide turns from stoke to fear.
What About Crystal?
Crystal has a reputation for being the biggest and baddest rapid of them all. And it's well earned.
In 1983 when Glen Canyon Dam was nearly overflowed, Crystal was downright terrifying. At flows between 50,000 and 70,000 cfs the Crystal Hole spanned nearly 60 feet wide and crested 20 feet tall.
This was an absolute monster that tossed 35 foot motor rigs around like ragdolls, drowning one passenger and injuring a handful more. The carnage was so extreme the NPS helicoptered in pamphlets warning boaters of the dangers, and the Park even forced passengers to get off the boats and walk around.
For better or worse, the Crystal Rapid of 2018 is not quite the same animal it was in 1983. Geomorphic changes in the river channel have somewhat tamed the wild wave. And as the Colorado River Basin slides farther into a decades-long drought, it's hard to imagine flows of 50k+ anytime in the foreseeable future.
Even still, Crystal remains one of the most formidable rapids in the Grand Canyon, and on those rare occasions when flows do climb near 40,000 cfs, there is a small window where you can catch a glimpse of a beast roaring back to life.
A Rapid Evolution
A handful of folks in our crew had run Crystal in the 22 to 25k cfs range previously, but none had ever seen it over 30. Of course, that didn't stop any of us from offering our expert predictions on what level the water would rise to, and where the infamous hole would form.
Needless to say, 38k quickly buried all of our best guesses, and as the sun rose with the high water, we made a mad scramble to move our camp farther up the hill. And that massive hole? We weren't even in the same ballpark. It formed at least 100 yards farther downriver than any of us thought.
Watching the rapid evolve provided hours of entertainment. The "traditional" holes we knew in the upper part of the rapid completely disappeared, replaced by a much longer tongue with massive laterals ripping off the boulders on river right. (We also watched a few tamarisk bushes completely stripped out of the ground). What seemed like a slightly intimidating pour over at Slate Creek at 7.5k became an awesome eddy fence that violently surged and twisted in a 20 mile an hour vortex of pure whitewater mayhem.
The Rock Garden in the second half of the rapid was completely buried, replaced instead by multiple pour overs and holes that looked big enough to flip eighteen foot boats, though that chaos could be skirted pretty easily on the right, or by riding a decent wave train far left. (see slider comparison image below)
In the four days we laid over, only one group stepped up to the plate. Each of their five boats ran it with varying degrees of excitement. Four of the five boats ended up kissing the edge of the big wave (one for sure with an open mouth), while one successfully broke the upper laterals and avoided the biggest waves altogether, making it look almost uneventful in the process.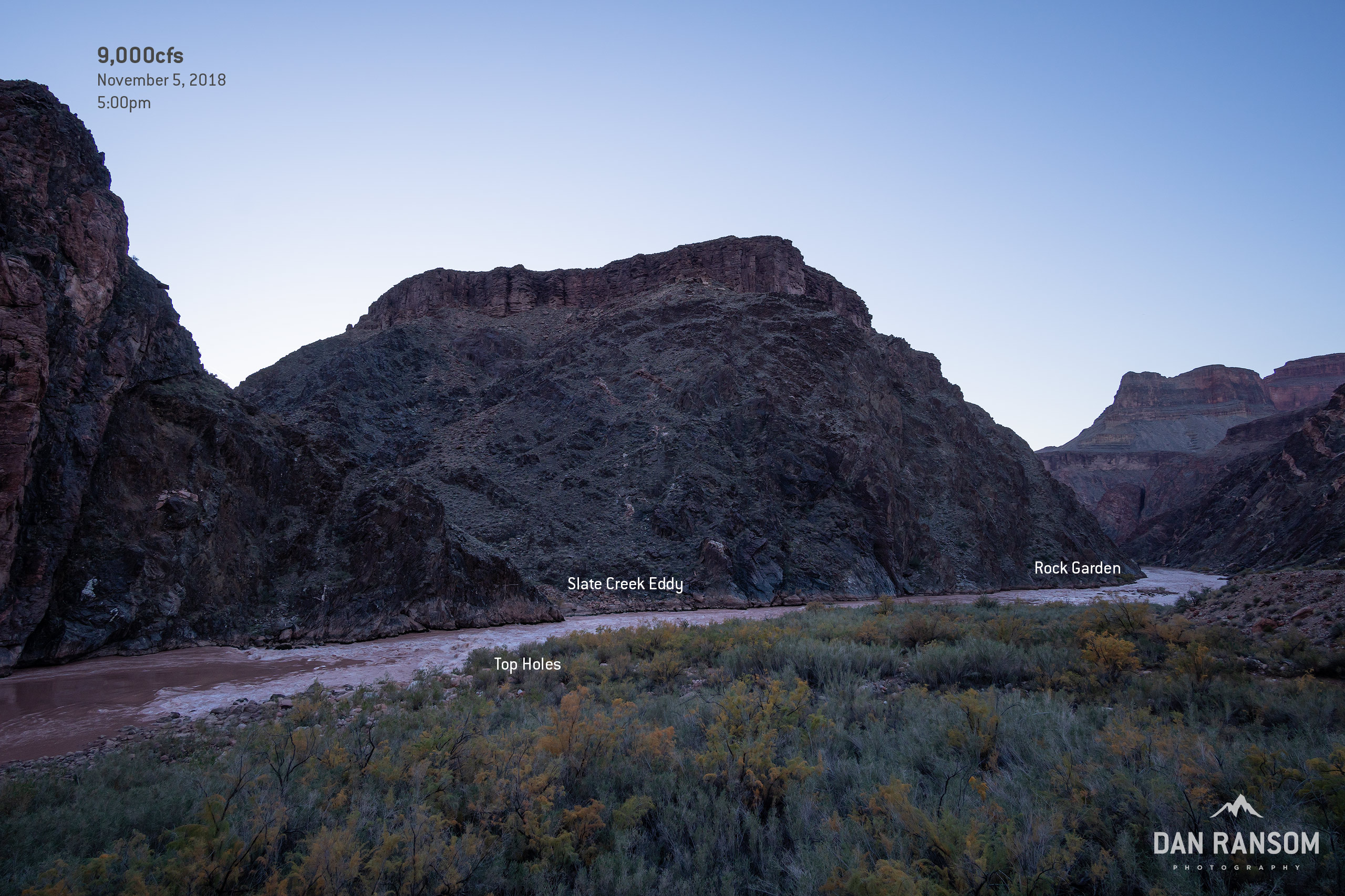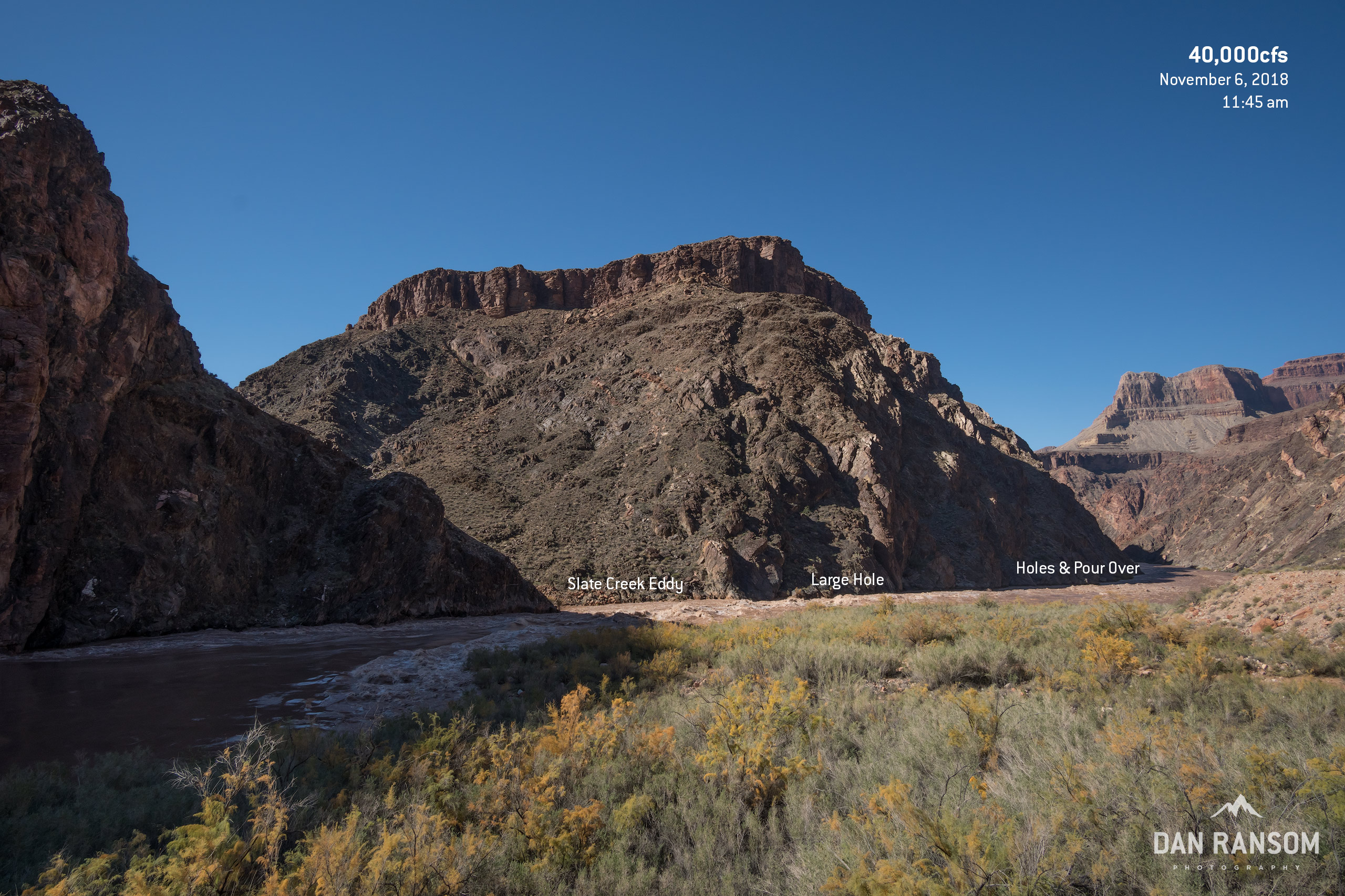 Use the slider to see the changes between 9,000 cfs and 40,000 cfsLEFT: November 5th, 2018 – 5:00pm at ~9000cfs RIGHT: November 6th, 2018 – 11:45am at ~40,000cfs
One of the biggest pulses of the day with 18 foot boat in it for reference. I'm estimating the wave height from trough to crest is 8-10 feet. By comparison, this wave in 1983 measured 60 feet wide, with surges to 18 feet.
Alive Below Crystal
By 10pm Thursday night the water started to drop, and we kicked off our all-night vigil to make sure no boats would end up high and dry. We each took a two-hour shift letting out the bow lines, and by 8 am we were sleep-deprived, rigged, and ready to float.
The river had already dropped below 20k, a much friendlier level. The monster hole is gone at that point, and all the traditional holes in the upper rapid were still friendly waves.
But the river still had one high-flow secret to reveal – pristine beaches.
We floated into Blacktail that afternoon to one of the most memorable scenes I've ever seen on the river. The beach below Blacktail was untouched and enormous, stretching a hundred yards down canyon. Small pools ebbed and flowed as the final wave of high water drained out of the canyon.
For the next 10 days, a similar scene would replay at almost every beach we landed on. I almost felt guilty, knowing every footprint we left would rob the next group of the same experience. Stone, Olo, 202, all massive and untouched. Beaches that previously were too small to support a large group were suddenly world-class. And National, which had been destroyed earlier in the year by a massive flash flood, was back and beautiful as ever.
Unfortunately, this is a beautiful but fleeting moment that will inevitably be washed away by the daily tides and demands for power generation at the dam. A wild river this is not.
But for 60 hours, it was easy to imagine "What if?"
The new beach at Below Blacktail
A Postscript
If you were on the river during the 2018 HFE, and would like to add photos or links to this page, please email me at danransom AT gmail DOT com